Supporting revalidation for nurses & midwives
As a registered nurse or midwife the introduction of the NMC revalidation model provides a clear code that reflects the current working ethos. It enables nursing professionals to better structure their professional development, and gives them the opportunity to reflect on the work and training they undertake.
That said, without appropriate support, recording progress against the NMC revalidation requirements could be a time-consuming task for nurses and midwives.


is an online, cloud-hosted, revalidation portfolio management solution, designed specifically to meet the needs of nurses, midwives, NHS Trusts and others who employ NMC registered nurses and midwives in the UK. In addition to enabling team leaders and Trust managers to track the progress of their teams, it provides the means for individual nurses and midwives to quickly and easily build their NMC revalidation portfolio.
Personal dashboard
All users have a dashboard specific to the roles they undertake: nurse, midwife, team leader, manager. In the Personal dashboard, individual nurses and midwives can immediately see how they are progressing towards NMC revalidation.

uses a traffic light colour-coded system to highlight which areas of the requirements are falling behind, allowing the practitioner to discuss rostering or training requirements with their team leader.
Quick entry forms
Entering details of a shift in

takes only a minute or two, with pre-filled forms defaulting as much of the information as possible. If you work on the same ward each day, all you need change is the date and the length of the shift.
Transferable subscription
Whether your

subscription is your own or has been arranged via your employer, your NMC revalidation portfolio is always accessible to you. If you change employer you can transfer your subscription into your new employer's team structure or switch to a personal subscription for a low annual fee.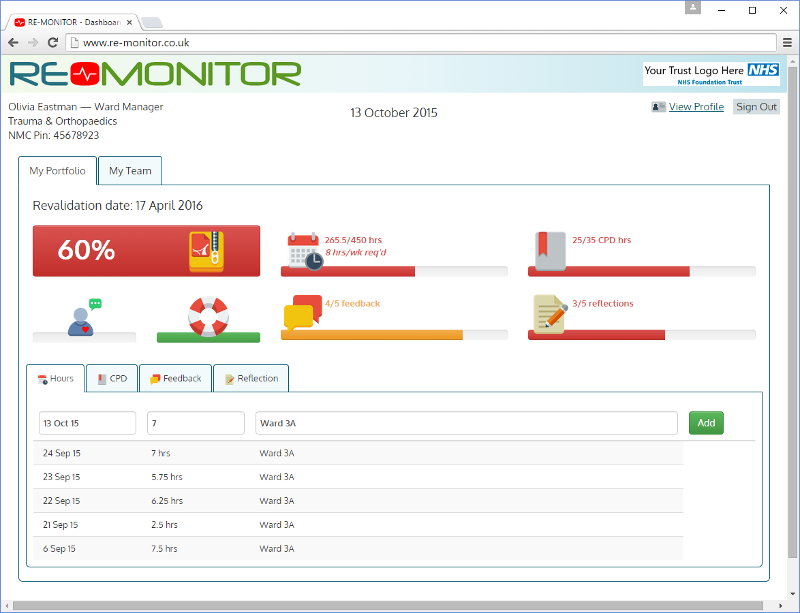 For additional information or to arrange an on-site meeting or online demonstration of

please email (info@re-monitor.co.uk) or phone (0333 222 5544) us.